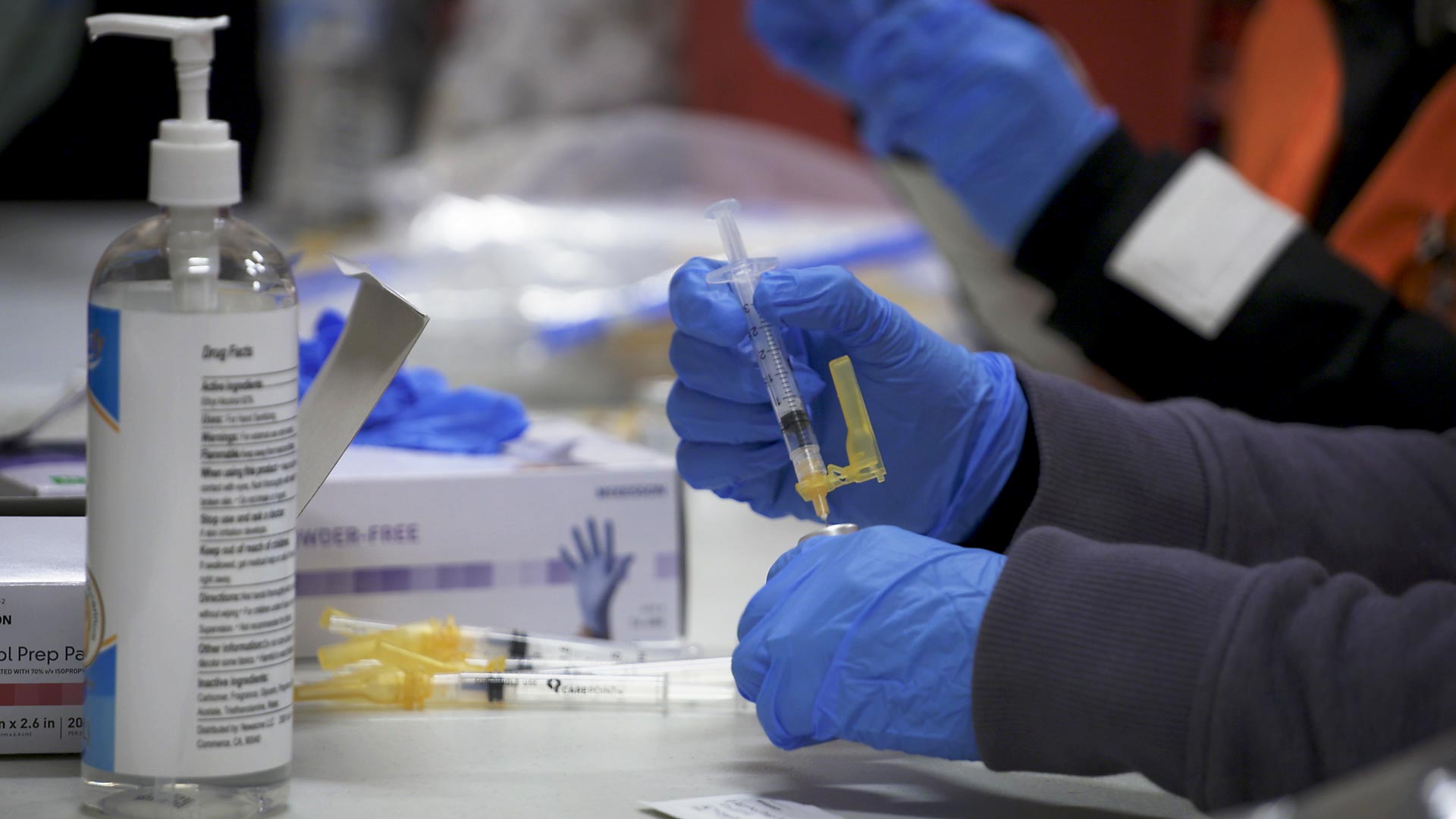 A health care worker prepares doses of the COVID-19 vaccine at a vaccination event in Globe on March 13, 2021.
AZPM Staff
Pima County vaccination sites have begun offering Pfizer booster shots for 12- to 15-year-olds.
Previously, only those 16 and over were eligible to receive booster doses. But now under the new federal approval from the CDC, anyone 12-15 is eligible as long it has been at least five months since they got their second dose.
The booster shots are free and no appointments are needed at any of the County's four sites. Only the Pfizer vaccine and booster is available for 12- to 17-year-olds.
• Tucson Convention Center, 260 S. Church Ave.
• Abrams Public Health Center, 3950 S. County Club Rd.
• Theresa Lee Health Center, 1493 W. Commerce Court
• North Clinic, 3550 N. 1st Ave.
Pima County officials said residents should not wait to take advantage of the new protection offered by the booster.
"We urge that every eligible child be vaccinated and to receive the booster at the appropriate time," said Dr. Theresa Cullen, the director of the Pima County Health Department. "We believe that will help ensure that we are able to keep schools open, keep students, staff and faculty healthy, and better protect entire families."
State health officials also welcomed the opportunity to provide protection to more Arizonan and added was a good reminder for anyone thinking about getting vaccinated.
"We're encouraged that even more Arizonans can update their protection against COVID-19 by getting a safe, free, and highly effective booster dose," said Don Herrington, interim director of the Arizona Department of Health Services (ADHS). "Meanwhile, there is plenty of vaccine for others to get the jab and dramatically reduce their risk of severe illness, hospitalization, and death from COVID-19."
All COVID vaccines also are widely available at pharmacies across the state. Check for locations and appointments at vaccines.gov or the Arizona Department of Health Services.