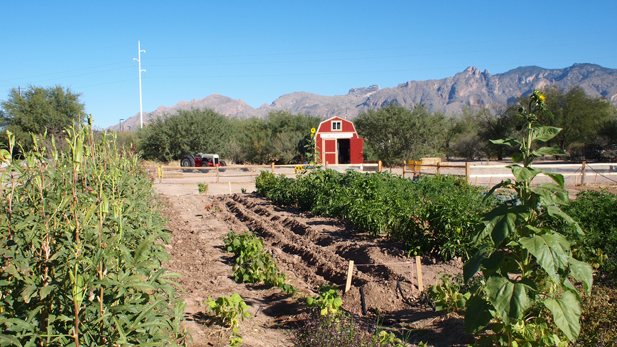 Tucson Village Farm in midtown Tucson. (PHOTO: Gisela Telis)
There's the Trader Joe's across the street, the glint of cars baking in a parking lot, the swoosh of traffic along Campbell. But you wouldn't know you're in the middle of a city when you walk the length of Tucson Village Farm. Sun-warmed leaves glow green along the crop rows, all neatly tilled and tended, and a tractor and barn blaze red just beyond. On this single acre, you're in farm country.
And as its creator, Leza Carter, is quick to point out, it isn't just any farm country. Tucson Village Farm is by and for the kids of Southern Arizona. School-aged children planted the rows of eggplant, okra and other crops, built the fences and reaped the farm's first harvest this year. As they harvested, "the kids had such a sense of ownership of the farm," says Carter. "There was a mountain of cucumbers and not a single one left on the plate."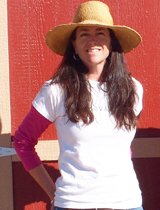 Leza Carter, founder of the Tucson Village Farm. (PHOTO: Gisela Telis)
Carter has been an outdoor educator all her life. She grew up above her florist father's shop in small-town Maine, finding comfort in the soil and plants he worked with, and as an adult taught gardening and outdoor skills in several schools, including the Pascua Yaqui Tribe's Lawrence Intermediate School. For the 15 years she has lived in Tucson, she has grown much of her own food.
The connection between the earth and food is important to Carter, and its absence from kids' lives and schools has disturbed her throughout her career. "We've been growing food for 4,000 years, and this is the first time in that history that we have no idea where our food comes from. We can't trace it past aisle six of the Safeway," says Carter. And even when schools try to forge that connection, she adds, the time and effort required stretches their resources too thin. "I saw lots of school gardens start up under an enthusiastic teacher or parent," she says, "and then, one by one, fall by the wayside."
So when Carter started to think about rejoining the workforce after taking six years off to raise her kids, she decided she would take the work of connecting kids to nature out of schools' hands and into her own. She had a vision of an environmentally and financially sustainable urban farm that was safe for kids and easily accessible by schools, and she took that vision to local schools, county officials and the University of Arizona's own farm, the College of Agriculture and Life Sciences (CALS) Cooperative Extension facility on Campbell. The Extension paired Carter with Elizabeth Sparks, a CALS outdoor educator, and gave the two the go-ahead to start the farm on their property.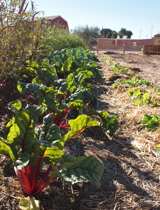 Every crop row in Tucson Village Farm was planted by schoolchildren.
In this first year, Carter and Sparks have created a field trip-based farm experience for elementary schools called the Growing Forward program, the Digging Deeper program for older kids, and a week-long summer farm camp. Participants rotate through farm chores and learn about plants, soil, composting and vermiculture, and preparing healthful meals. The goal is to "show that connection from seed to plate," says Carter.
The kids who've worked the farm learn that and much more, says Dr. Shari Popen, founder and director of Sky Islands High School, an environmentally focused charter school that has partnered with Tucson Village Farm from the farm's inception.
"Our students feel quite a direct connection to the farm," she says. "Girls and boys alike open up when they get out there. You can physically see them relax and work companionably together."
Carter has noted the farm appeals to parents as well. "I've learned there's a real need for a program like this, not just for kids but for a lot of adults," she says. To meet that need, she and Sparks have also started family workshops in which kids and their parents learn together. Jasmin Owsley brought her daughters Malaya and Amaya, ages 7 and 5 respectively, to one of Carter's first family workshops and says it was "a blast."
Owsley, an Army veteran and the Army OneSource Community Support Coordinator for Arizona, was looking for an activity that would link her daughters and herself with other military families while her husband is stationed in South Korea. She drove from Sierra Vista to participate in a farm workshop for military families in which kids and their parents learned about container gardening and prepared their own salads and salad dressings from scratch.

"We're trying to eat healthier, and this brought home why it's important to do that," says Owsley. "And our container garden is still growing. I'm the worst gardener and I haven't killed the butter lettuce yet. I may branch out to other things, like carrots, now."
Tucson Village Farm continues to face challenges: the constant search for grants and funding, the difficulties in arranging transportation from schools. But for Carter, it's all worth it for the joy dirt can bring. "We don't have fancy things here," she says. "There's dirt and seeds and space, and that's what feeds kids' souls."
---
Sidebar: The Tucson Village Farm will be hosting its first annual Fall Harvest Festival on November 13, 2010 from 10 a.m. to 2 p.m. The free event will feature farm tours, games, food demonstrations, a petting zoo and a fundraising raffle. The farm is located at 4210 N Campbell Ave., just north of the intersection of Roger and Campbell.