Members meet to practice their French, socialize and learn about Francophone countries.

Tony Paniagua
Listen: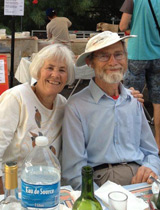 Mary and Bob Carryer enjoy a lunch in southwestern France. (PHOTO: Mary Carryer)
Since L'Alliance Française was founded in Paris in 1883 to promote the French language and culture, the organization has grown steadily around the world.
There are more than 800 centers now, including one in midtown Tucson where students gather to hone their skills and socialize.
There is a cost to attend the classes and gatherings, but students such as Stephanie Keenan say it has been worth the price and time.
Keenan already speaks English and Spanish so French is becoming her third language.
A French-speaking neighbor in Tucson urged Keenan to attend some classes.
"I would come every Tuesday to conversation and I would not understand a thing and my hair was just flown back because of all the words flying by but if you stick with it, and I did, I understand some now," Keenan said.
For Mary Carryer, the classes have been more of refresher course.

Carryer took French in high school and college and rediscovered her love for the language when she and her husband started visiting France in the 1990s.
When they retired in Tucson from California, Carryer sought out the group again.
"This is a good way for me to keep it up so I don't forget it," Carryer said.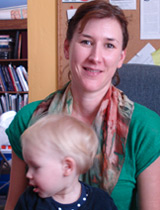 Director Magali Bergolla with daughter Iole who is growing up trilingual. (PHOTO: Tony Paniagua)
"You think about things differently, I think, when you speak a different language. You phrase things differently, you see things differently. And I actually enjoy that aspect of it," she added.
The director of L'Alliance Francaise in Tucson is French teacher Magali Bergolla.
She moved to Tucson with her husband while he attends law school at the University of Arizona.

They have a little girl who was born in the United States and she's already immersed in cultures and languages.
"My husband is from Venezuela and I'm from France," Bergolla stated.
"I'm speaking French to her and he's speaking Spanish and she goes to the daycare where English is spoken so she's exposed to three different languages," Bergolla explained.
French is spoken as a first or second language by more than 200 million people around the world.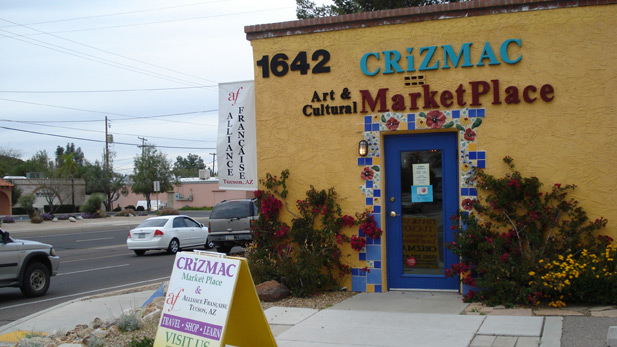 L'Alliance Français in Tucson leases a space on Alvernon Way near Pima Street.

Tony Paniagua