AZPM
Listen:
Ryan is a curious sixth grader who likes rocks, no matter the origin. He said he has a collection of rocks at home and his dream is to become a geologist.
"I have almost half of every type of mineral," he said. "I want to collect meteorites in the future – I only have two."
He attended the University of Arizona's Sky School for a day with his classmates from the Flowing Wells School District's Center for Academically Talented Students.
The UA Science Sky School is an outdoor education program run by the university's graduate students. It brings K-12 children out onto Mt. Lemmon to expose them to different fields of science, such as geology, biology and astronomy, which meant Ryan got to learn about rocks from both Earth and space, and even the tiny bugs that caught his attention at the Babad Do'ag trailhead.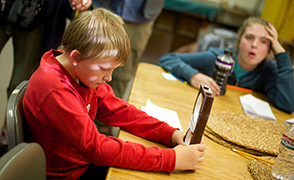 Ryan, a student in the CATS program, examines a meteorite as part of the Sky School program at the UA Sky Center campus on Mount Lemmon.

Yoohyun Jung
Alan Strauss, the director of the Sky Center, said the program is a cooperative effort of different science departments at the UA and their graduate students to "build a bridge between their research and the public."
The Sky School's classroom is the entirety of Mt. Lemmon, concluding at the Sky Center campus at the summit of the mountain.
Mt. Lemmon, the highest point in the Santa Catalina Mountains, is part of the Madrean Sky Islands region. The region shows diverse ecology, according to Pacifica Sommers, a UA graduate student leading Sky School.
"The ecology changes as you drive up the mountain," she said. "Biologically, it's like driving from Mexico to Canada in just 30 miles."
Some of the activities included taking measurements of temperature, altitude and air pressure at varying elevations of the mountain to compare the changes in the environment.
Sommers said the mode of learning at Sky School is doing and experiencing.
"The basis of science is asking questions about the world around us," Sommers said. "And if kids aren't connected to the world around us, if they're not noticing the world around us, making observations about the nature and enjoying it, they are not even going to ask questions."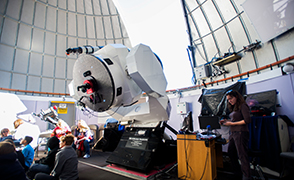 The 32-inch Schulman telescope at the UA Sky Center at the summit of Mount Lemmon.

Yoohyun Jung
Allowing the children to make deeper observations of the environment encourages scientific thought and critical thinking, she added.
"We have the astronomy resources up here to tie all of that into a larger sense of our place in the universe," Sommers said.
Ryan and his classmates had a chance to observe the sunspots through a specialized solar telescope within the dome of the Schulman telescope. But he said he had more fun examining meteorite samples, because they are "rocks from space."
Examining meteorites was part of an exercise intended to get students to put what they saw and experienced together with scientific methods and theories.
Janet Slingerland, the student group's instructor, said getting the children outside is important in their learning.
"They're so used to doing everything on a computer and seeing everything on a screen," she said. "To get them outside seeing what they're studying is so important."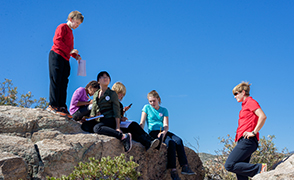 A group of students, led by U of A graduate fellow Pacifica Sommers (right), write down their measurements of temperature, altitude and air pressure at Windy Point on Mount Lemmon.

Yoohyun Jung
Many of the students graduating from the Flowing Wells School District are first in their families to go to a university, she said. So it's important for them to be able to interact with college students like the instructors at Sky School.
UA Sky School helps children get an intensive science education, but it also benefits the graduate students who are teaching them, Sommers said. Many graduate students end up working as teaching assistants and need to learn to communicate their research to the general public.
"Once you can talk about your research to a seventh grader, you can talk about your research to a much broader spectrum of the population," she said.
She also said she is fulfilling her own dream while exposing children to their potential dreams.
"To be that person who can put science, outdoors and fun in the same sentence and have that make sense for kids who have never been hiking before or have never been to Mt. Lemmon before is really exciting to me," she said.
Yoohyun Jung is a University of Arizona journalism student and apprentice at Arizona Public Media