The Tucson Unified School District Governing Board Tuesday night approved cuts that, together with the closure of 11 schools, could help the district erase an expected $17 million budget deficit next fiscal year.
At a special board meeting, the district's chief financial officer presented a proposal that includes cuts to central administration, all-day kindergarten, health insurance coverage and assistant principals, among other positions.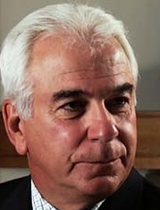 TUSD Superintendent John Pedicone. (PHOTO: AZPM)
The proposal called for an increase in class sizes by one student for fourth through 12th grades, saving $1 million. The board voted to not increase class sizes from kindergarten through third grade. Increased class sizes could mean the need for fewer teachers.
All other recommendations were approved, to bring the savings to $10 million.
The board voted last month to close 11 schools for a savings of $4 million as part of the deficit-reduction plan. Those school closures are subject to review by a federal judge overseeing a TUSD desegregation order, and plaintiffs in the case have filed an objection.
For further potential savings, the board gave district administrators the green light to explore outsourcing janitorial, grounds maintenance, human resources, technology operations and transportation.
TUSD Superintendent John Pedicone has said the district's expected deficit comes because of state legislative cuts and reduced enrollment. The effects of those are catching up with the financial picture, which has been bolstered by reserves and one-time federal stimulus money.
He said the expected deficit factored in no increase in state funding in the next school year. Gov. Jan Brewer has asked the Legislature for more educational funding statewide, but legislators have said the budget will be very tight.