(VIDEO: AZPM)
Making school relevant for students and the businesses that want to hire graduates is slowly becoming a reality in Arizona, say participants in a business and education conference.
One driving force is expanded career and technical education programs, known as CTE, that get students ready for work and college.
That idea emerged from "State of Our State," the Morrison Institute for Public Policy's annual conference Thursday in Phoenix. Several participants in the conference were interviewed for Friday's Arizona Week broadcast about the connection between business and education.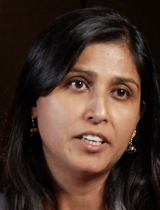 Sapna Gupta (PHOTO: AZPM)
"The economic landscape has changed in the world, in the U.S., but in Arizona specifically as well," said Sapna Gupta, senior policy analyst for the Morrison Institute. "And CTE has evolved along with it."
Gupta researched CTE growth in support of the conference and found that CTE programs are improving school attendance and workplace preparedness.
CTE is the modern equivalent of the old vocational education, with "rigor, relevance and relationships" for students to gain skills to go to work or college, sometimes both, said Kate McDonald, principal of Metro Tech High School in Phoenix.
McDonald said her school offers all the core curriculum courses that all high school students need, and then offers 19 CTE tracks.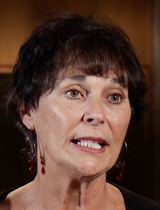 Kate McDonald (PHOTO: AZPM)
"Our programs range from things like cosmetology, culinary arts, automotive, to engineering, health careers, computer networking," she said. "When our students are juniors, they go into CTE programs in which they spend a little over two hours a day."
Such programs provide relevance that keeps students engaged. McDonald said the numbers are the proof in her school, where the graduation rate is 90 percent, dropout rate and discipline issues are low and attendance is high.
That is despite the school's student body statistics: 96 percent of the students are Latino, and 87 percent are on free-lunch programs. Low-income and minority students tend to have lower graduation rates and to perform more poorly in school.
"Our school speaks for itself, and I think that's one of the things I'm very pleased to be able to share, that we can be a model for what is possible, for the promise of education for our students and especially the population that we serve," McDonald said.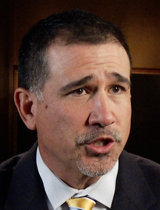 Paul Luna (PHOTO: AZPM)
Reaching underserved populations with the message of educational importance as an economic factor is critical to success for individuals and for the state's economy, said Paul Luna, president and CEO of the Helios Education Foundation.
"It's understanding the economic impact that post-secondary education success--college success, if you will--will have on a student and a family," said Luna, himself a first-generation college graduate who came from a copper-mining family in eastern Arizona.
Helios has a $500 million endowment with which it provides scholarships and support to prepare students for college.