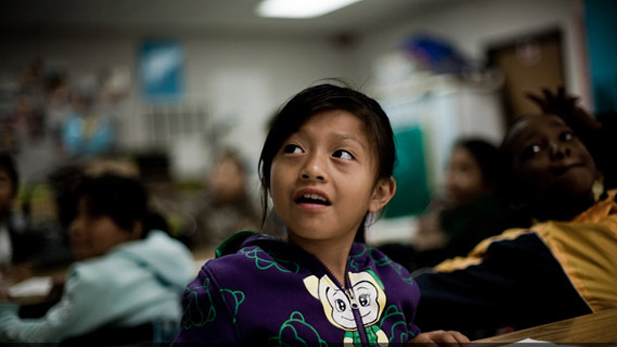 Andrea came to kindergarten sort of speaking three languages: Spanish, English, and Kanjobal. After five years of English Immersion classes, she is still struggling to communicate—in any language. (PHOTO: courtesy of Louise Baker Lee)
Latinos are the largest ethnic minority group in the Southwest, and the fastest growing in the United States. More than one-third of Latino students are English Language Learners, and according to the U.S. Department of Education, they consistently perform poorly on state tests and have lower graduation rates than Whites and Asians.
California, Arizona, and Massachusetts are three states that have replaced bilingual education with an English immersion model. While this move was intended to help close the achievement gap, many experts are questioning the results.
From Fronteras, Senior Field Correspondent Devin Browne tells the story of Andrea, a young girl that Devin met while she was teaching school in a part of Los Angeles called MacArthur Park...
Listen:
This story is part of the national series American Graduate, public media's response to our nation's high school dropout crisis.