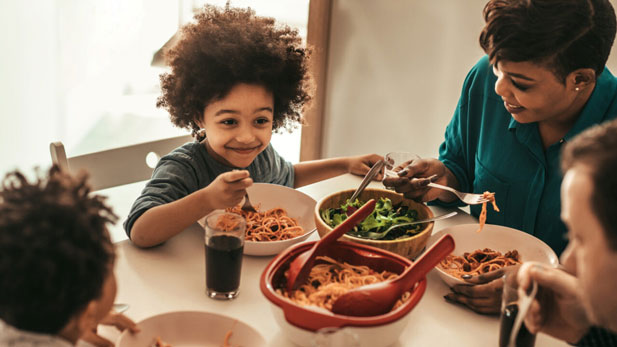 A family sits down to dinner.

PBS KIDS
These pandemic days, our collective parental guilt has been at an all-time high, fueled by a party-crasher we've come to call "COVID," whose arrival forced us to cancel all the birthday parties — and life as we knew it.
Yet amidst the rubble of grief, loss, chaos, and cancellations — many commute times vanished, togetherness ensued, and families found some bright spots. Pandemic living hasn't been easy, but there have been some bright spots in its wake that we just might carry over into post-pandemic life.
Here are some of my family's ideas and routines that we discovered during the pandemic that we plan on keeping.
Saying yes. "Can we play with shaving cream? Can we have a picnic? Can I give my doll a haircut?" Between the video calls and online school sessions this past year, the requests for activities were nonstop. Was an idea dangerous or costly? If the answer was no (and the question wasn't about screen time or junk food), I tried to say yes to their request. Don't get me wrong — I didn't abandon boundaries or limits altogether. And yes, the word "yes" yielded lots of messes! But it also led to more creativity and sibling bonding: a pretend shoe store created by taking shoes from every closet in our home, shaving cream "paintings" on bathroom mirrors, costume parades, and lots of giggles.
Eating dinner as a family. Despite the research, my family often ate dinner separately pre-pandemic — kid-friendly food served early, and an adult meal when the kids were in bed. When COVID-19 arrived and we were all home, all the time, actual family dinners became a thing for us. Nightly! Eating together as a family encouraged my kids to try new foods (who knew they liked brussels sprouts?), spurred conversations about our days and feelings, presented more opportunities for age-appropriate responsibilities (setting the table, clearing their spots, etc.), and created moments of much-needed family laughter.
Talking to kids honestly. Honesty may be the best policy, but it can certainly be hard to tell kids the truth about scary things. "When will we go back to school? Are people dying from this virus?" I wanted to protect my kids from difficult topics, but this time their lives were directly impacted. So I made a point of answering their constant stream of questions as honestly as I could. Often, they only required simple, age-appropriate answers followed by comfort and reassurance. Sometimes my answer was a straightforward "I don't know." Sometimes it was admitting that the rules were changing and a brief explanation why. But opening the doors of communication on one topic — a scary new virus — paved the way for more truthful conversations about racism and other challenging topics.
Getting outside. Every. Single. Day. Before the pandemic, the second it was a tad too cold, hot, windy, or rainy, my kids' complaints poured in, along with pleas to go indoors. Yet during the early lockdown days of pandemic life, venturing out felt necessary for the sanity of my entire family. There was no bad weather, only inappropriate clothing. (Okay, there was lots of bad weather). But we learned through each season that we could handle it. And that we all felt better leaving the walls of our house. We took off two sets of training wheels during this pandemic, went on countless dog walks, held numerous water fights, jumped in hundreds of puddles, and built more fairy houses than I can count. I credit our daily time outdoors with giving us much-needed exercise, new skills, increased focus (upon returning inside), and a major boost in sanity.
Saying no. Wait. What? I thought we were saying yes. Let me clarify. I said yes to my kids' zany ideas. And then said no to all of our old obligations. No overscheduling. In fact, no to most extracurricular activities (which add up quite quickly with three kids!). No to jam-packed weekends. No to anything we didn't feel safe doing — or simply just didn't want to do. No to large gatherings, including massive birthday parties. My shy little 2-year-old turned 8 this year, and guess how we celebrated? Four of her friends met in a green field, played with Barbies, and smashed some pinatas. Her mask hid her smile, but this time her eyes beamed. It only took a pandemic to plan the perfectly-sized celebration for my introverted daughter.
This past year hasn't been a party. But I encourage you to hold onto the silver linings — and do your best to let go of the parental guilt.
---
Jodie Fishman works at the intersection of public health and communications. She currently serves as Chief Content Officer for Bright by Text, a non-profit that sends free, timed text messages to parents to promote their child's healthy development and school readiness. Jodie's writing on health and parenting has been featured in HuffPost, the Washington Post and more. Jodie holds a Master of Public Health with a focus in maternal and child health and is a Master Certified Health Education Specialist (MCHES). She has three young children and an iced coffee addiction.