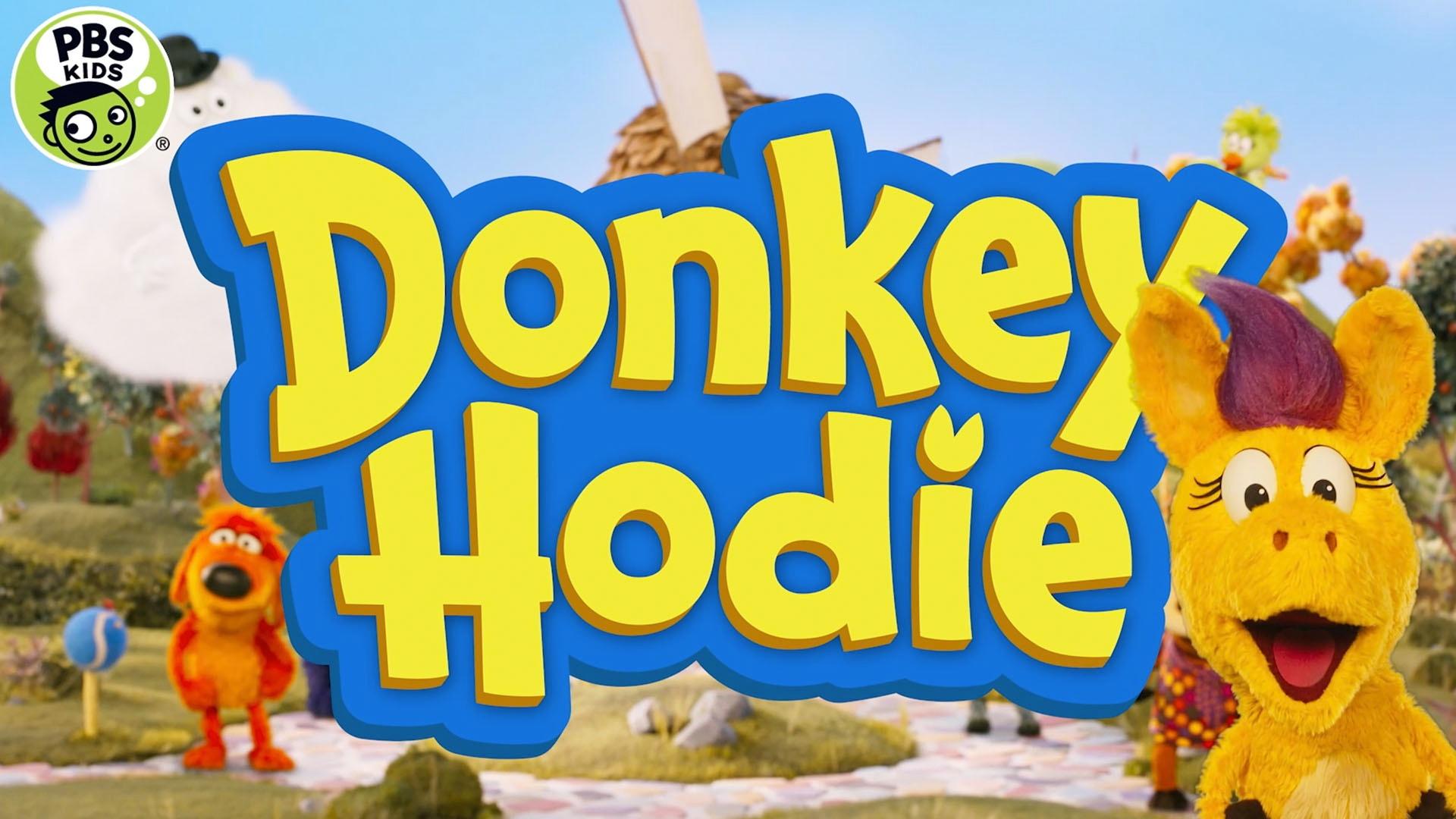 Donkey Hodie follows the adventures of a little yellow donkey who dreams big. With perseverance, great pals, and a laugh along the way, there's nothing she can't do.
Fred Rogers Company
DONKEY HODIE, a whimsical, new PBS KIDS puppet series produced by Fred Rogers Productions and Spiffy Pictures, will encourage preschoolers to aim high, embrace challenges and work hard to achieve their goals when it premieres on May 3, 2021. The colorful multi-platform show follows the adventures of Donkey Hodie, granddaughter of the original Donkey Hodie character from MISTER ROGERS' NEIGHBORHOOD (now known as "Grampy Hodie"). The original puppet appeared in 59 episodes of the beloved children's series. Inspired by the quirky, funny side of Fred Rogers, DONKEY HODIE furthers the children's TV pioneer's mission of helping young viewers navigate the challenges of childhood. The series features original new music along with reimagined versions of Rogers' songs.
Set in the whimsical land of Someplace Else, created by Rogers on MISTER ROGERS' NEIGHBORHOOD, the imaginative social-emotional series for children ages 3-5 centers on the adventures of Donkey Hodie, an enthusiastic, "can-do" yellow donkey with a bright magenta mane, and her pals: Purple Panda, her loyal and empathetic best friend who wears his big heart on his sleeve; Duck Duck, a practical, quick-witted young mallard who loves to figure things out; and Bob Dog, an energetic and eager canine who is always ready to boogie to music or fetch a ball. In Someplace Else, everyone's big dreams are possible—whether it's Purple Panda finding the end of the Golden Rainbow, Duck Duck planning a Book-A-Palooza Festival or Bob Dog playing the largest kickball game in history. Episodes include catchy songs that reinforce the stories' positive messages and fun adventures.
DONKEY HODIE is created by Adam Rudman and David Rudman and developed by Ellen Doherty. Executive producers are Ellen Doherty, Adam Rudman and David Rudman. Adam and David Rudman have produced, created, written and performed on a number of other celebrated children's series, including Nature Cat, Jack's Big Music Show and Bunnytown.
Digital content for kids, parents, and teachers will launch in tandem with the series. Games will be available on pbskids.org and on the free PBS KIDS Games App, along with clips and full episodes streaming across PBS KIDS' video platforms, including the free PBS KIDS Video App. Parent resources such as tips and hands-on activities to extend the learning at home, will be available on PBS KIDS for Parents, and PBS LearningMedia will offer classroom-ready materials for teachers, including video excerpts, games, teaching tips, and printable activities.
Donkey Hodie is made possible with funding from the Corporation for Public Broadcasting (CPB), Arthur Vining Davis Foundations, PNC Foundation, and PBS.