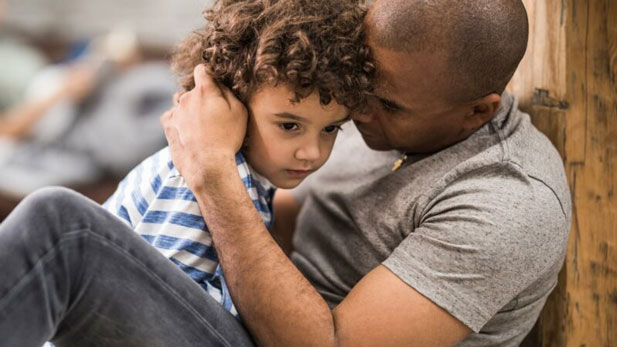 As parents, we want to introduce our kids to the world at the right pace; our instinct is to protect kids from scary topics until we feel they are ready to face them.

PBS Parents
"In times of stress, the best thing we can do for our children (and for each other) is to listen with our ears and our hearts and to be assured that our questions are just as important as our answers." - Fred Rogers
Read TALKING WITH CHILDREN ABOUT DIFFICULT THINGS IN THE NEWS resource from The Fred Rogers Center for Early Learning and Children's Media
---
From PBS Parents:
1. ​Listen and clarify.

Encourage your kids to share what they already know, let them ask questions, and then offer simple, age-appropriate, clarifying information. For my slightly older kids, we try to help them distinguish between truth and rumor. With every news report of a scary thing, we can help them to patiently wait for all the information to come out, instead of latching onto the scary rumors that seem to fly around when such things happen.


2. ​Look for the helpers.

For younger kids, I've found it's helpful to help them see the positive in scary situations.The timeless advice from Fred Rogers still applies today. He said, "When I was a boy and I would see scary things in the news, my mother would say to me, 'Look for the helpers. You will always find people who are helping.'" For example, if kids hear about a fire in the area, talk about the brave firefighters who quickly arrive on the scene. If they hear about a natural disaster, talk about all the ways people come together to help those in need – providing food, opening their homes, and raising money. And depending on the news, you and your family can look for ways to become helpers. As Harvard's Richard Weissbourd reminds us, kids and adults alike are "more distressed when we feel helpless and passive — and more comfortable when we are taking action."


3. ​Above all, reassure.

Kids need to know that the adults in their lives are there to help and protect them. Reassure them that they are safe and loved – and that they can always bring their questions and worries to you and that you will work through them together. Remember, there is not much that says 'everything is going to be alright' like a hug.

We cannot fully "news proof" our home when unsettling events happen in the world, but we can help kids navigate what they hear through simple, responsive, reassuring conversations.

This is an excerpt taken from an article originally published on pbs.org/parents in May 2018. Read the full article here.
---
Eric Rasmussen, Ph.D., is a husband, father of four, professor of communication, and children and media researcher. He is the author of ChildrenAndMediaMan.com, and his mission is to get research about children and media off the academic shelves and into the hands of those who need it most — parents.