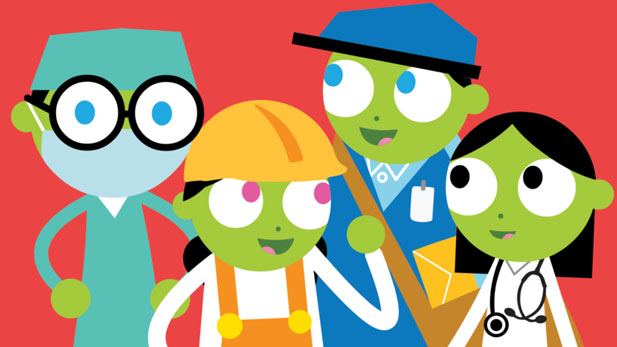 Thank the helpers in your neighborhood.

PBS KIDS
Fred Rogers told us that when things are scary, we should look for the helpers. And as we face a global pandemic, our families are surrounded by a lot of scary news. But the good news is that we're also surrounded by helpers. There are doctors and nurses keeping us healthy. Grocery store and agricultural workers keeping us fed. Neighbors and delivery service workers running errands so that vulnerable friends and family can stay home.
Mister Rogers wanted us to know that no matter the problem, there will always be people trying to solve it. That means there will always be someone to be grateful for! And thanking others is one way children (and adults!) can begin to feel some control over difficult situations and big emotions.
Here are a few ways you can help your child learn about essential workers and thank the helpers in your community.
Start with a quick video.
Searching for an easy and fun way to introduce your child to all the helpers in your neighborhood? Watch You, Me and Community: Together We're the Key! Your family can dive deeper into learning about the people who make your community special with our Thank You Neighbors playlist, which includes a clip of Daniel Tiger's "Look for the Helpers" song.
Create your own community hero.
The Xavier Riddle Hero Maker game encourages children to explore different kinds of helpers by designing their own hero — like digital paper dolls! The game has options for grocery store clerks, teachers, sanitation workers, mail carriers, construction workers, firefighters, police officers and medical workers. You might let your child create on their own, or give little clues to connect playtime to real life: "Who would we go to if we don't feel well? Can you make that helper?"
Craft homemade thank-you cards.
Have your child think about someone who helped him recently and make a thank-you card from supplies you have at home. You could send the card ("Thank you, Grandma, for reading me a story over the phone. I drew a photo of me giving you a hug!"), deliver it by hand ("This is the BEST grocery store and I'm so happy I got to see you today. Thank you for helping me!"), or leave it for your helper to find ("I can't wait to eat my yummy dinner! Thank you so much for leaving it at my door.").
Have a printer? These pre-made messages let you fill in the blanks to thank essential workers in your neighborhood.
​Put a thank-you sign in your window.
Print off our essential workers coloring page, or use it as inspiration to create your own sign with art supplies you have at home!