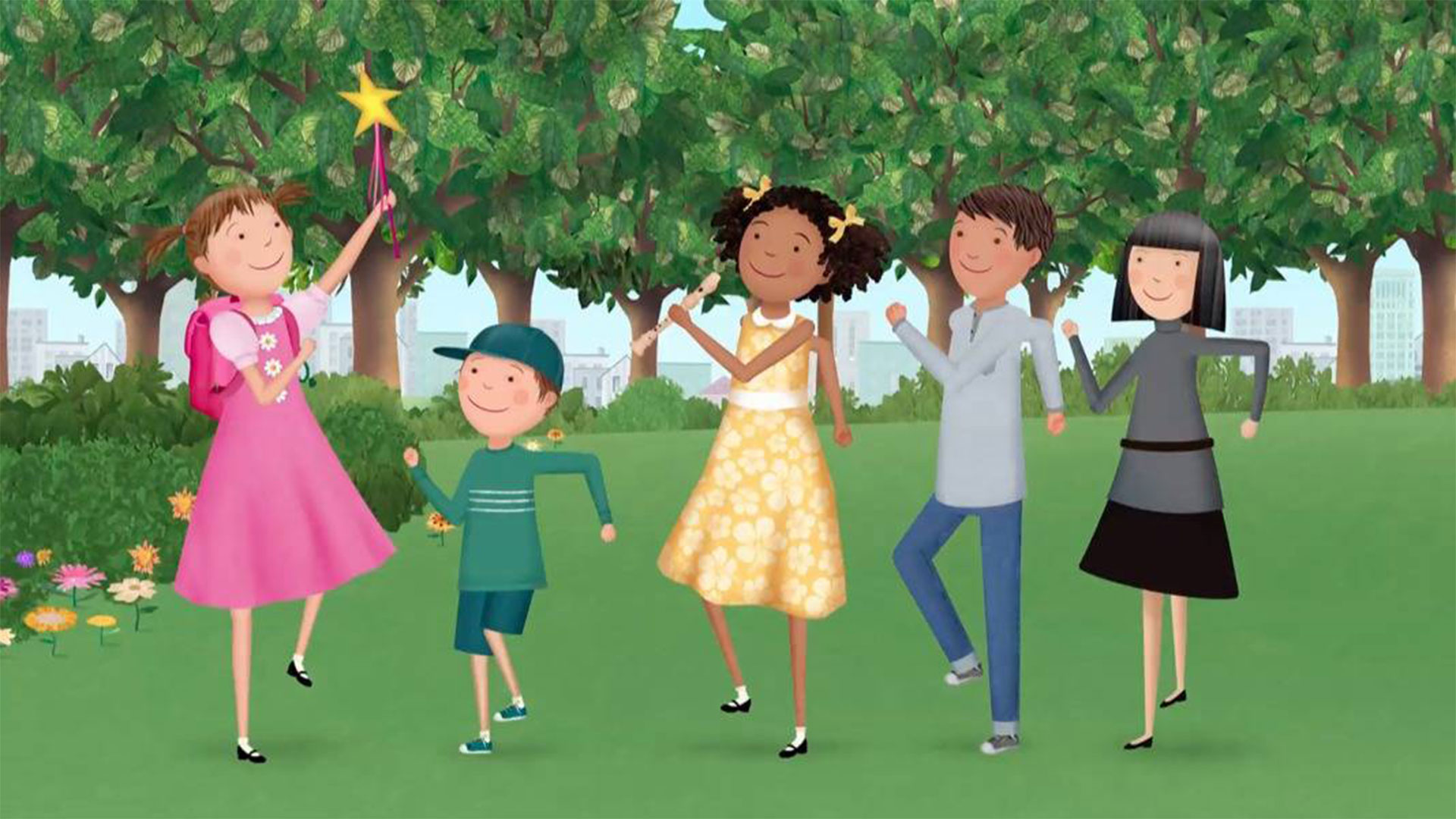 Episodes available on PBS KIDS' streaming video platforms ahead of February 19 one-hour premiere.
WGBH
PBS KIDS announced a first look at its newest animated series, PINKALICIOUS & PETERRIFIC, based on the best-selling Pinkalicious book series by author Victoria Kann. In the lead-up to its February 19 broadcast premiere, PBS KIDS is giving fans a special sneak peek on pbskids.org and the PBS KIDS Video App. Three full-length 11-minute stories are now available; additional stories will roll out on digital platforms every Friday until February 9. The series' on-air premiere on February 19 will feature five 11-minute stories, one of which guest stars Marlo Thomas, who voices a dragon named Gertie.
PINKALICIOUS & PETERRIFIC follows the adventures of Pinkalicious and her brother, Peter, as they explore the town of Pinkville with their neighborhood friends. The imaginative Pinkalicious finds creative opportunities everywhere she looks, with Peter and her friends Jasmine, Rafael and Kendra in tow. She inspires everyone around her to be creative and find imaginative solutions to problems and expresses herself in ways that encourage children to do the same.
Produced by WGBH Boston and Sixteen South Studios, PINKALICIOUS & PETERRIFIC encourages kids to engage in self-expression and the creative arts, covering areas such as music, dance, theater and visual arts. Each episode includes two 11-minute stories featuring Pinkalicious, Peter and their friends, and one live-action interstitial. The interstitials will feature real-life kids creating art, as well as profiles of professional artists. Renowned musicians such as blues recording artist Vaneese Thomas, dancers such as New York City Ballet principal Amar Ramasar, and author-illustrator Victoria Kann are among the artists featured.
PBS KIDS and member stations across the country support the entire ecosystem in which children learn, including their teachers, parents, and community. PINKALICIOUS & PETERRIFIC is part of a multiplatform media experience that will include digital content for kids, parents, and teachers, beginning in February.
PINKALICIOUS & PETERRIFIC will offer a variety of games at pbskids.org and on the PBS KIDS Games App, as well as clips and full episodes on pbskids.org and the PBS KIDS Video App, which is accessible on a variety of mobile devices and platforms such as Roku, Apple TV, Amazon Fire TV, Android TV and Chromecast. A PINKALICIOUS & PETERRIFIC app, Party with Pinkalicious!, a creative app experience that will support the series, will also launch in February. Parent resources will be available on the PBS KIDS for Parents website, and PBS LearningMedia will offer classroom-ready materials for teachers, including video excerpts, games, tips, and printable activities.
PINKALICIOUS & PETERRIFIC is based on the author-illustrator Victoria Kann's number-one New York Times-bestselling book series, Pinkalicious which includes 63 titles and has sold more than 23 million copies to date. The HarperCollins book series has been translated into eight languages and is available in nine countries. The series also inspired a stage musical Pinkalicious: The Musical, which premiered in New York City to sold-out audiences and continues to be performed across the country. Pinkalicious & Peterrific is produced by WGBH Boston and Sixteen South Studios. Produced with the participation of Northern Ireland Screen. Funding for PINKALICIOUS & PETERRIFIC is provided by public television viewers. Corporate funding is provided by Kiddie Academy® and Homer.