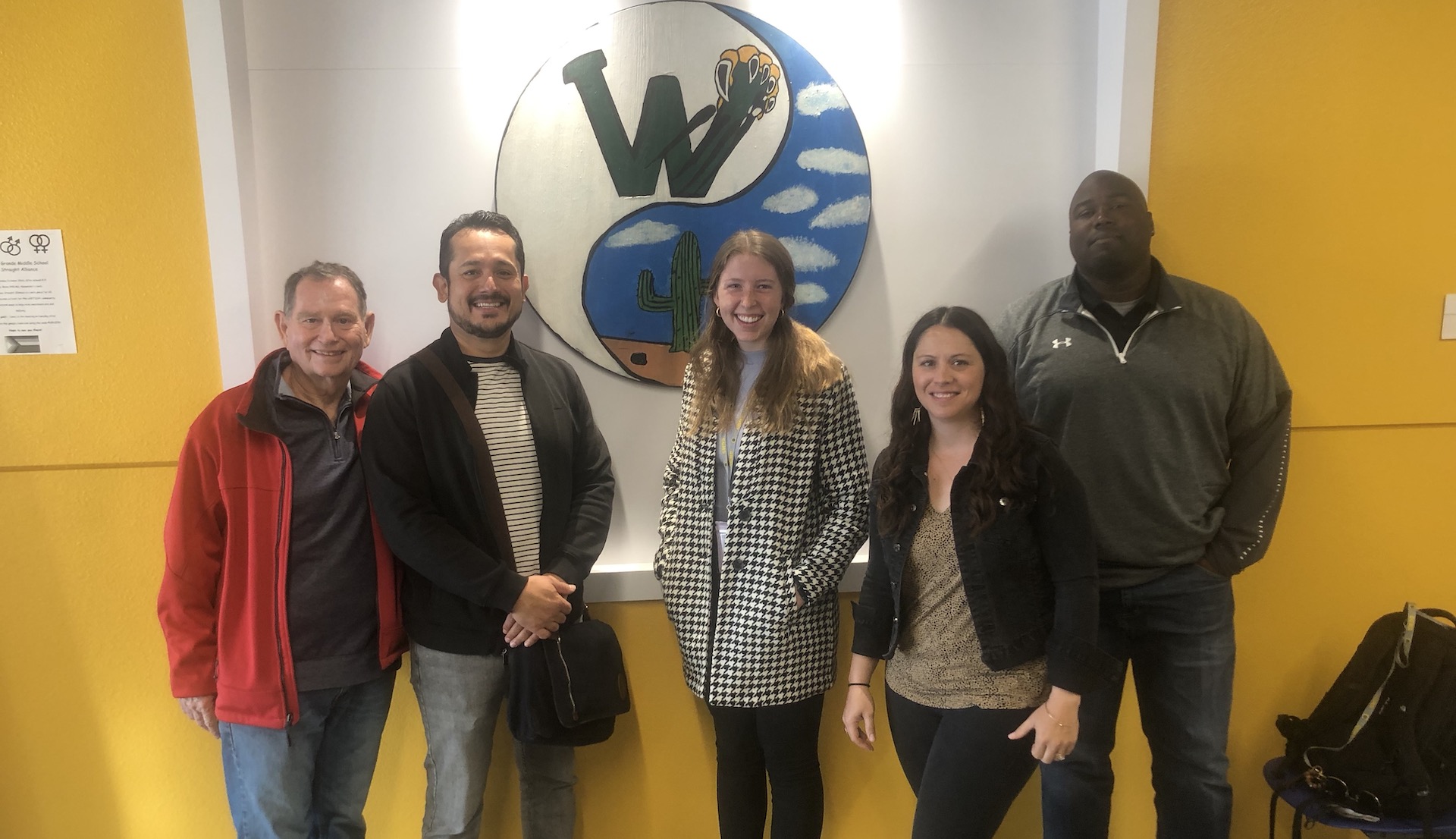 Casa Grande Middle School Dads on Duty volunteers Daniel Brostowicz and Romeo Leal, Family Engagement Specialist Sara Hamilton, School Counselor Sharon Tuttle and Assistant Principal Aundre Bell
Duncan Moon/AZPM
In the wake of the pandemic, schools are looking for new ways to serve their students.
Among other effects, the isolation of remote learning exacerbated an already troubling challenge to students' social growth and relationship skills.
The Casa Grande Middle School has begun a program they call "Dads on Duty," which they hope will play a big role in turning things around.

Under the new Dads on Duty program, Casa Grande Middle School is hoping that bringing strong male role models into the school will help strengthen students' social skills, build confidence, and teach them how to build positive relationships.
Sara Hamilton is the Family Engagement Specialist at CGMS, as the middle school is known. She is the driving force behind the new program.
She based the Dads on Duty on a similar program in Shreveport, Louisiana. She believes it will help change the lives of many of their students.
"I have talked to a lot of kids at CGMS who don't have dads at home. And I think the impact that men can have in this community is so great," she says. "And I really want these kids to grow up with a positive impression of father figures, whether or not its their own father"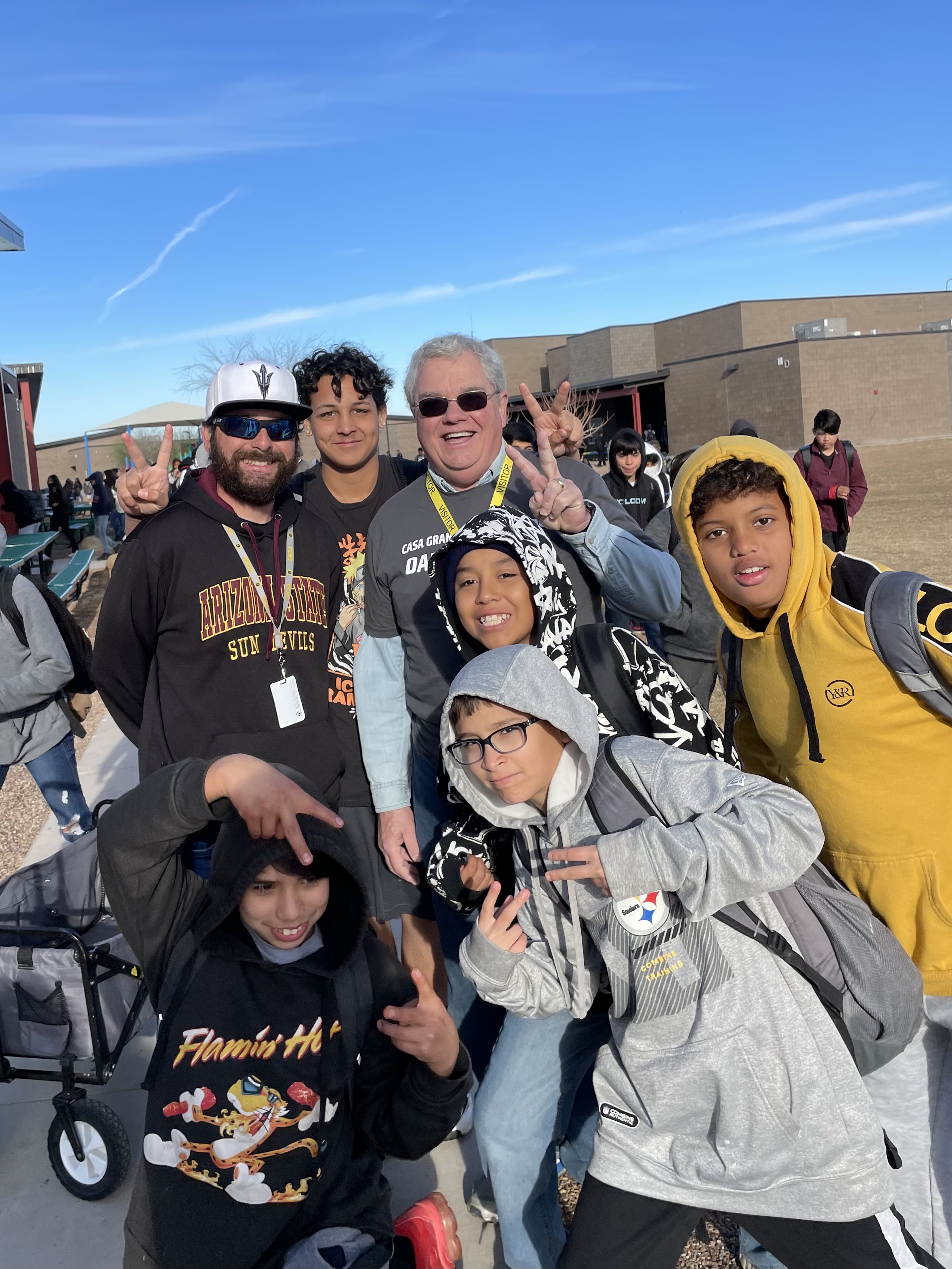 Jared Zimmerman, CGMS Campus Monitor, and Bob Croll, Dad on Duty volunteer (right) with several students at breakfast.

Duncan Moon/AZPM
Sharon Tuttle is the school counselor at CGMS, the only one for nearly 700 students. She says with teachers and staff stretched so thin, having strong male role models in the school can make a significant difference in students' lives.
"Research has shown that one caring adult can change the trajectory of a kid's life," she says. "And these kids don't feel seen, they don't feel heard, they feel alone. They are scared for their future. They're scared for a lot of reasons and just sitting down with them and listening can tell them they are important — that they are loved and cared for, that they are wanted is so important"
She adds it's not just a strong masculine presence that makes a difference, it's showing what real strength is based on.
Having men on campus showing them that listening and having respect for someone else is a value and not a weakness will go a long way to helping our boys especially to see that there are different ways to solve problems," she says. "Changing the narrative about what it is to be a man in this world."
Assistant Principal Aundre Bell says breaking down those stereotypes of what a man is — and is not — is key.
"A lot of times we think about the big strong father, the big strong uncle, the protector, but it also important for kids to know that men can be sensitive, men can listen to your needs, give you a shoulder to cry on, maybe even shed a tear with you," he says. "Just letting them know that there's always somebody there no matter what situation they are going through, because a lot of our kids don't have that person, someone they can go vent to, and that they don't think is going to judge what comes out of their mouth."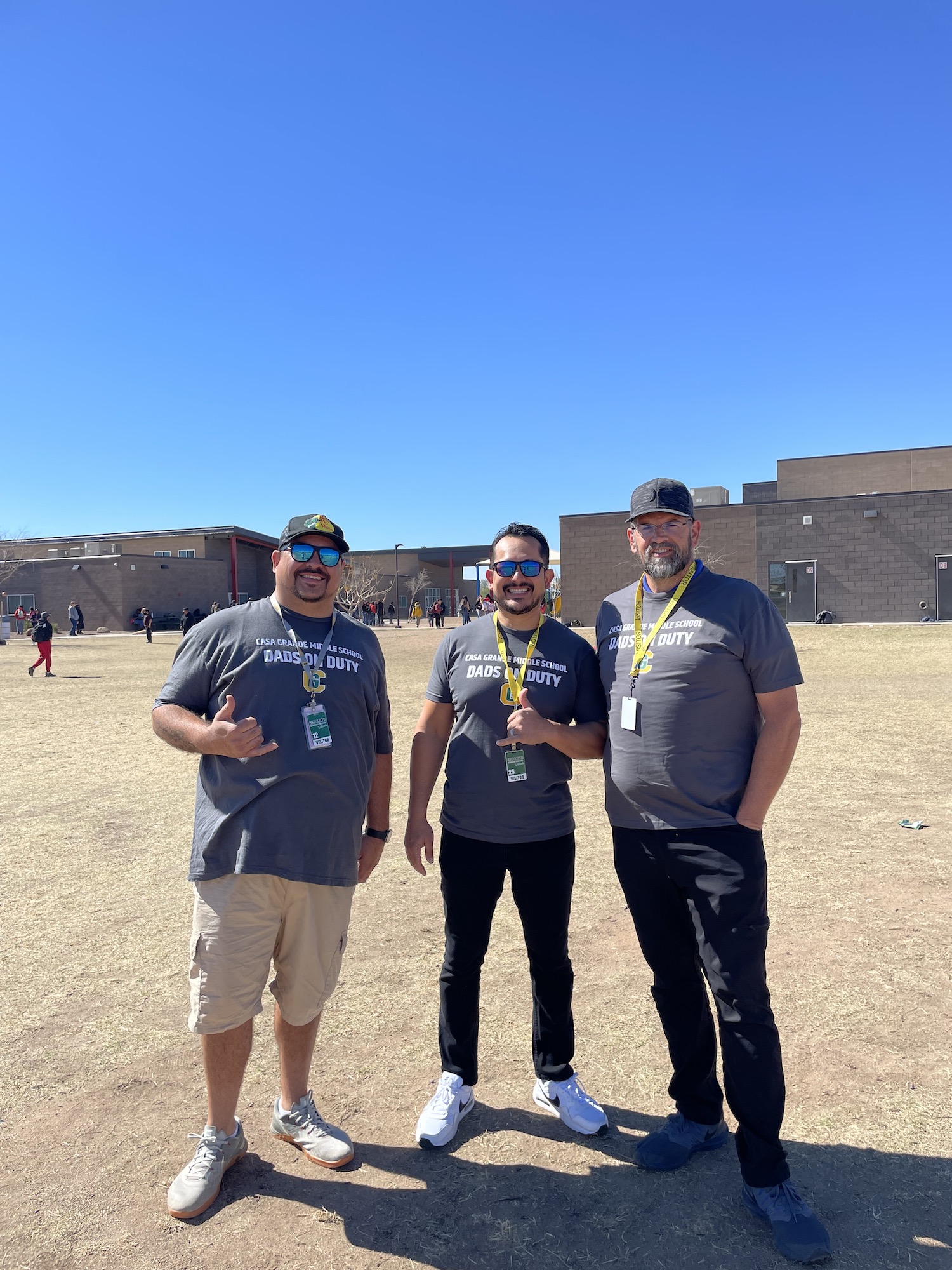 Dads on Duty volunteers Jonathan Scruggs, Romeo Leal, Derek Bednarek at Casa Grande Middle School

Duncan Moon/AZPM
Romeo Leal is one of the school's first Dads on Duty volunteers, and the lead pastor at Passion Church. He grew up in Casa Grande and attended CGMS.
"I did not have a father figure growing up, and it played a huge role in my life and I had to rebound and relearn a lot of new things and to be better for my children," he says. "And so I see both sides of that coin and so being able to be here on campus and be that positive role model, even if it's just simple high fives — it just makes a huge difference. For me, its love. It's simply expressing love to these kids."
Dads on Duty volunteer Dan Brostowicz is a retired journalist and substitute teacher. He's been in Casa Grande for about 10 years. He is strong believer in the power of mentors.
"I think that basic interest in a kid growing up and saying, 'yeah, you can do it,' changes their whole attitude," he says. "You know they year so much negativity in the world today, and If you can flip that over just a little bit into the positive side, it's going to have an effect on them."
Counselor Tuttle says it's not just about the boys. She says the girls at CGMS have just as much to gain.
"A lot of our kids are beginning to test out being in a relationship," she says. "I think having role models and men on campus especially showing our females what it means to be respected, what it is to be heard, and what it is to be valued in a relationship, even if it's just mentor and student, I think that will change how healthy their relationships are going forward."
With the success of Dads on Duty, CGMS has begun pushing out a sister program called "Wonder Women" to bring women into the school in a similar capacity. Sara Hamilton says they've begun looking for their first volunteers.