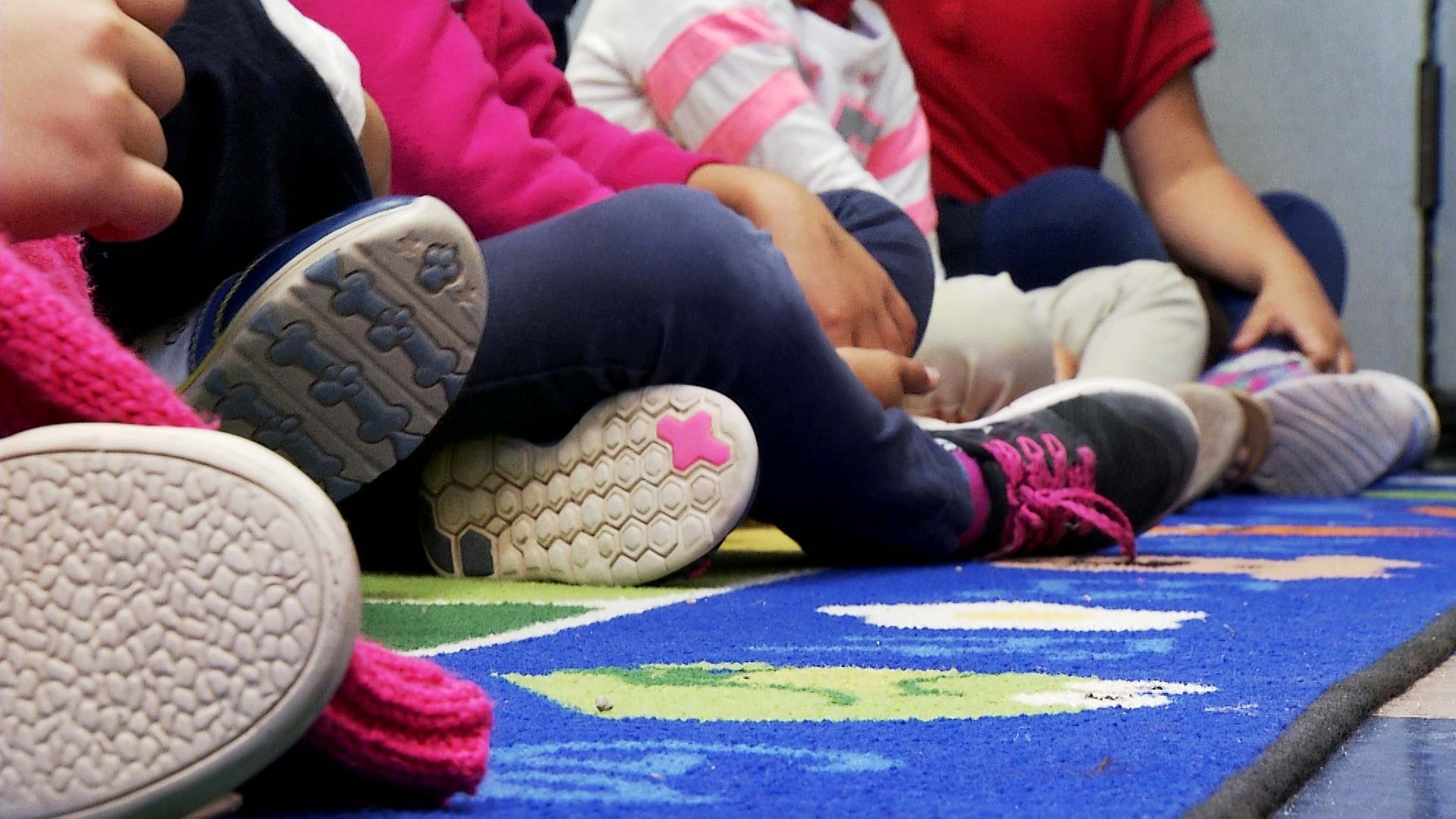 The shoes of children as they sit in a row inside a kindergarten classroom.
AZPM Staff
Facing a deadline to act by the end of the month, the Arizona Senate voted Monday afternoon to lift a cap on school spending and avert more than $1.1 billion in budget cuts.
The 23-6 vote followed mounting pressure from educators to lift the aggregate expenditure limit — a statewide cap on public school spending.
Added to the state Constitution by voters in 1980, the limit can only be lifted with the support of supermajorities in the Senate and House of Representatives.
But while the risk of cuts has been clear for months and the House rallied enough bipartisan support to approve an increase to the limit last week, a similar proposal appeared stalled in the Legislature's upper chamber due to opposition from some Republicans.
Six Republicans voted against the measure on Monday, raising concerns about temporarily scrapping a limit put in place by the voters, citing a preference to expand school vouchers instead and railing against measures schools had taken to curb the spread of COVID-19.
Sen. Michelle Ugenti-Rita, R-Scottsdale, called the vote "capitulating to the educational terrorists who have held our kids hostage."
The other members voting no were Senators Sonny Borrelli, David Gowan, Vince Leach, Warren Petersen and Wendy Rogers.
Sen. Kelly Townsend, R-Mesa, did not vote.
Democrats said the Legislature should have addressed the issue sooner, arguing Republicans had sought to play political games with the issue.
"We knew this was coming and this is again nothing more than a legislatively created crisis that we could have addressed months ago," said Senate Minority Leader Rebecca Rios, D-Phoenix.
A combination of factors collided to put school districts over the spending limit. For example, the limit is calculated in part based on student enrollment but enrollment has fluctuated during the pandemic.
School officials warned of devastating consequences if the Legislature did not raise the spending limit this year.
Tucson Unified School District stood to lose more than $58 million.
District administrators said the cuts would result in bigger class sizes and layoffs.
But the measures approved by the Senate and House this month do not offer a permanent fix.
The Legislature could be back grappling with similar cuts again in the future.
Senate President Karen Fann, R-Prescott, argued Monday it is time for a broader overhaul go the aggregate expenditure limit, noting much has changed in the classroom since 1980.
"Let's not do this year after year after year. Let's come up with a solution — a bipartisan solution," she said.