Explore the Outdoors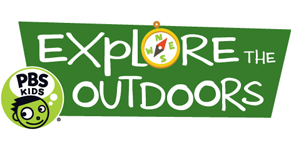 PBS KIDS Explore the Outdoors and celebrate Earth Month!
Shake off the winter chill, go outside and discover nature! The fun begins on April 6 with brand new themed on-air programming and online and mobile content.
WILD KRATTS
New Episodes Premiere April 20, 21 &22 It's always an adventure with the Kratt brothers and the Explore the Outdoors week includes the premiere of three all-new WILD KRATTS episodes. Learn about the amazing world of chameleons with Martin and Chris in "Chameleons on Target," airing April 20. Then on April 21, it's off to Madagascar, where Chris and Martin witness a dispute between two troops of Ring-tailed lemurs in "Lemur Stink Fight." Finally, join Aviva when she unveils her new invention on April 22 in "Capture the Fishmobile."

Families can take their adventures with Chris and Martin mobile with the newly updated Wild Kratts World Adventure App, currently available on iPhone, iPad and iPod touch and coming soon to Android. It's the ultimate Wild Kratts App to get you on the creature trail, playing and learning about creature powers with the Kratt Brothers!
DINOSAUR TRAIN
New Episodes Premiere April 20 & 21 The Pteranodon family is always ready to head into the great prehistoric outdoors for fun and adventure! In "Tiny's Fishing Friend/Butterflies," premiering Monday, April 20, Tiny is on the hunt to find a mammal in the Mesozoic who likes fish after learning that many mammals don't eat fish at all. Then, on April 21, Buddy, Tiny, Shiny and Don are excited that Keira Chirostenotes gets to babysit them for the night while Mr. and Mrs. Pteranodon go out for a dinner on the Dinosaur Night Train in "Best Ever Babysitter/Plant a Tree."